If your Explore1 is on v1.0.5 or later, you can update your drone using the Flight1 app. If you're on an earlier Explore1 version, please contact Skycatch at
support@skycatch.com
for assistance with updating your Explore1 firmware.
1. Get the latest version of the
Flight1 app
in the App Store. If you are on the latest version, the App Store will show an "
Open
" button instead of an "
Update
" button on the Flight1 app page. If you see an "
Update
" button, please tap the button to download the latest Flight1 version to your mobile device.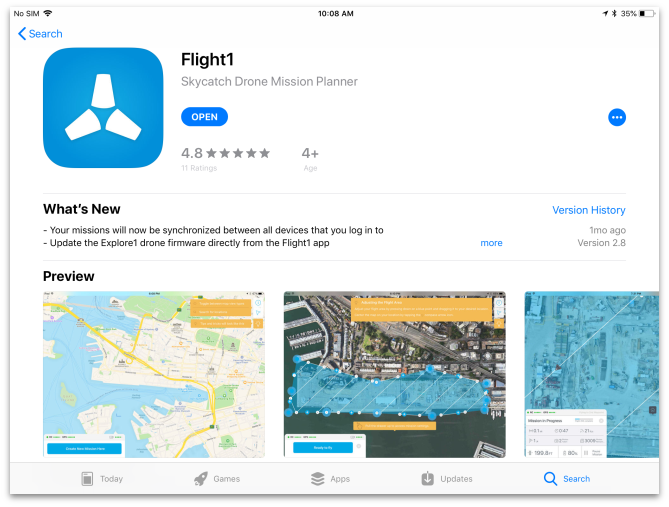 2. Once you've confirmed you're on the latest Flight1 version, connect your iOS device to the Explore1 remote controller (RC) with the provided USB to lightning USB cable and turn on both the RC and Explore1.
3. A notification will be displayed in Flight1 saying "New Drone Update Available". Tap the green "Install Now" button to begin installing the update.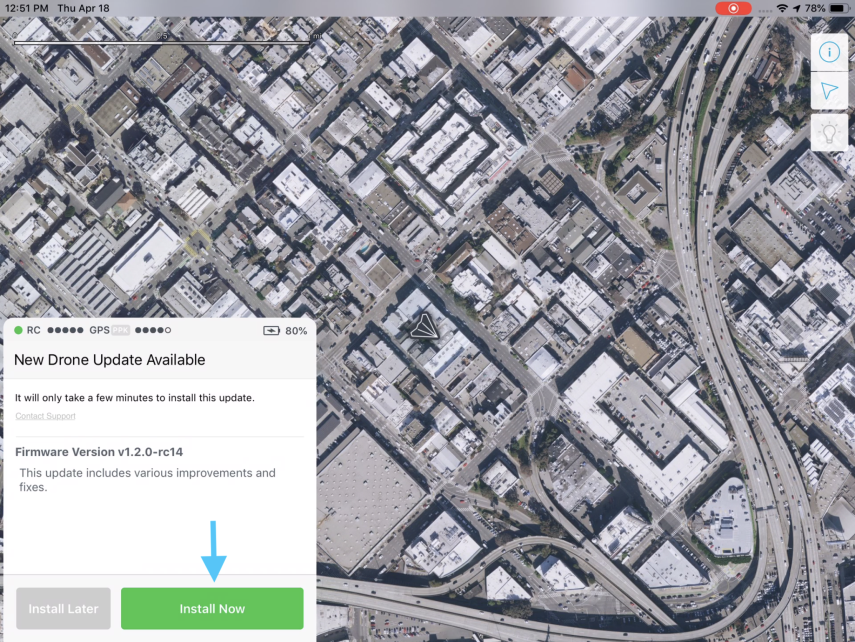 4. Connect Explore1 to the internet using one of the following methods:
a. Connect to ethernet using an ethernet cable and the USB adapter
b. Connect to a WiFi network using WiFi dongle
i. Insert the WiFi dongle into the Explore1
ii. Flight1 will display a list of your available WiFi networks.
iii. Select your WiFi network and enter password then tap "Connect" button
c. Connect to WiFi automatically (this is typically only enabled for Explore1 drones operating in Japan)
i. If Explore1 is WiFi-enabled, Flight1 will automatically display the available networks in the menu window.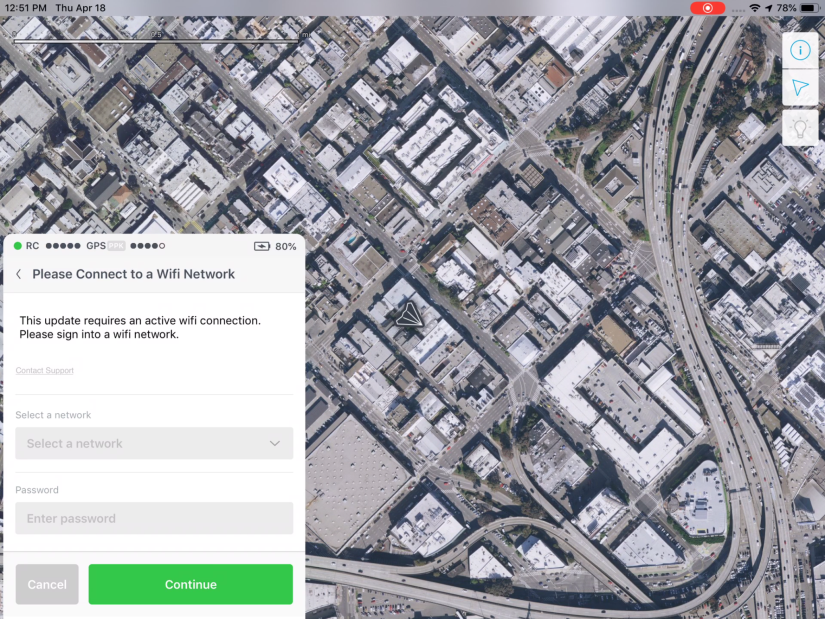 ii. Tap on the WiFi network to connect.
iii. Once you connect an Explore1 to a WiFi network, it will auto-connect the next time it sees the same network.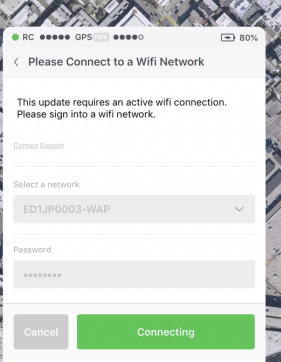 Note : If a "Connection Failed" message shows up once a WiFi network is selected, please disregard this and proceed with entering the password.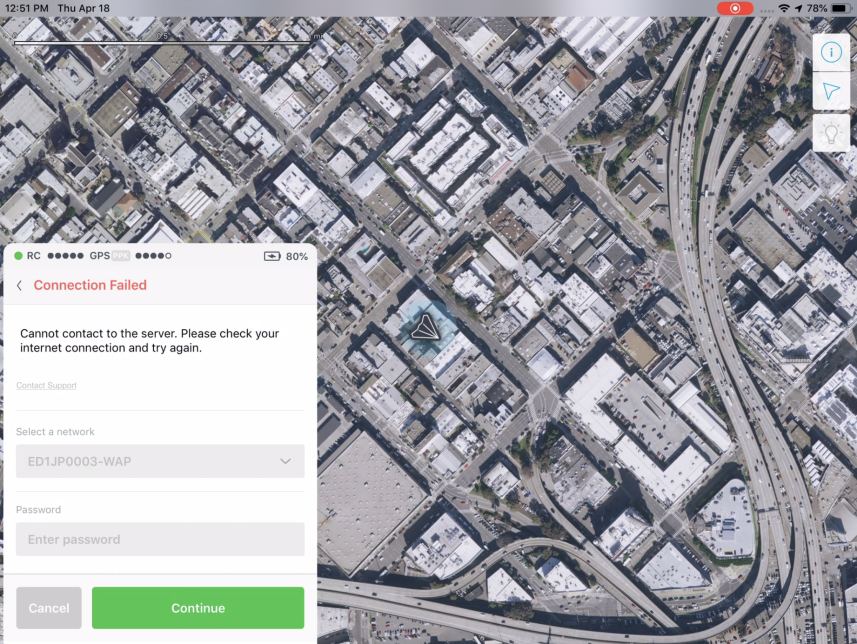 5. The Explore1 firmware update will start automatically start when successfully connected to the internet.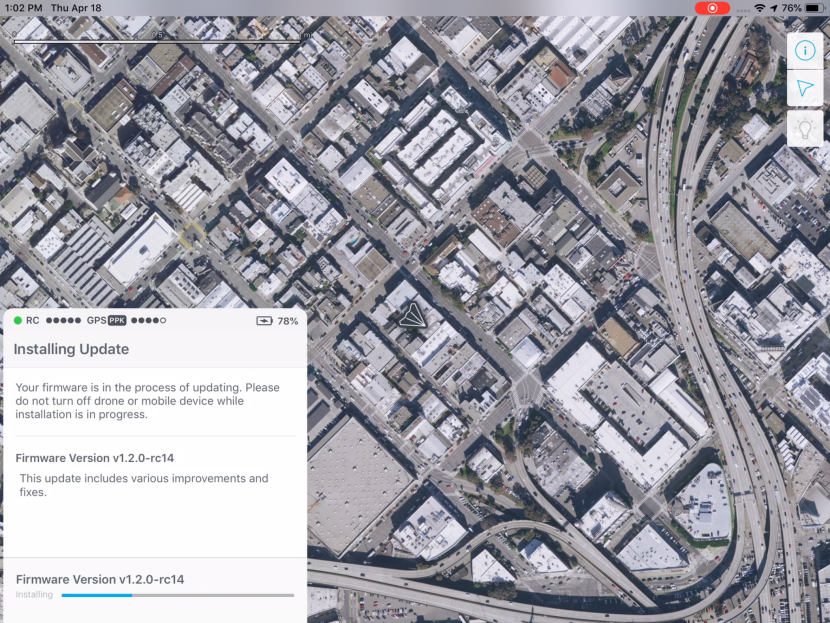 6. Tap the "Finish" button when the "Installation Successful" message is displayed.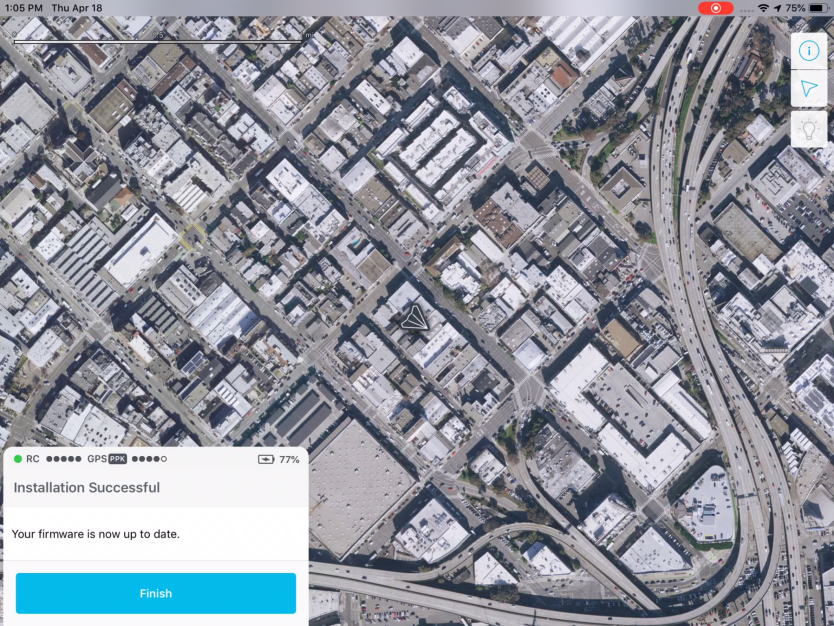 7. To check the Explore1 firmware version, navigate to "Settings" by pulling the drawer all the way up and tap the "Settings" tab.