You can download all file types available for your plan, including any customer deliverables, directly from your Skycatch account. The coordinate system your data products are in is displayed at the top of the download drop down for easy reference. There's also a button to an external box.com folder for easy sharing and access to all your files.
Downloading a TIF, LAS, OBJ, or DSM File
1. Log into your Skycatch account. Select the site and date of the product you want to download.
2. Click on the Download button in the upper right-hand corner of your screen on the 2D map view of the site. In the drop-down, you will be able to see the different file types available for download.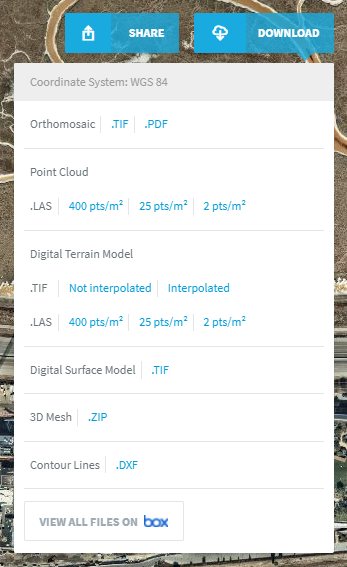 3. Click on the data product you're interested in. The download will begin immediately. Another option is to download from box. Clicking the "View All Files on Box" button at the bottom of the dropdown will direct you to box.com. You can download your data from there as well.
Downloading a Contour Map (DXF)
Contour maps, also known as topographic maps, are useful for displaying the elevation information of an area. These contour maps are created using the point cloud of your processed map.
1. The option to download Contour Lines (DXF) is also available in the Download drop-down.
2. A pop-up titled, Export Contour Lines, will appear on your screen with three options:
Units - the units of measurement used on your contour map
Major to Minor Ratio - defines the ratio that the color of the major and minor lines are displayed in
Interval - sets the difference in elevation between contour lines
3. Once you've customized your export, click the Export Contour button. pop-up at the top of your screen will appear to let you know that your contour export is processing.

4. Once your contour export has finished processing, the pop-up at the top of your screen will update with a Download Contours button to download the DXF directly to your computer.

Downloading a PDF of your map
1. Log into your Skycatch account and select the map and date that you'd like to download a PDF of.
2. Click the Download button in the upper right-hand corner of your screen. You'll see a drop-down with the different file types available for download, select. PDF.
3. You'll see a pop-up window where you can adjust the view, update the PDF name, and choose the resolution of the images that will be downloaded in your PDF. Use your mouse or trackpad to pan or zoom to adjust the map view to your desired PDF view.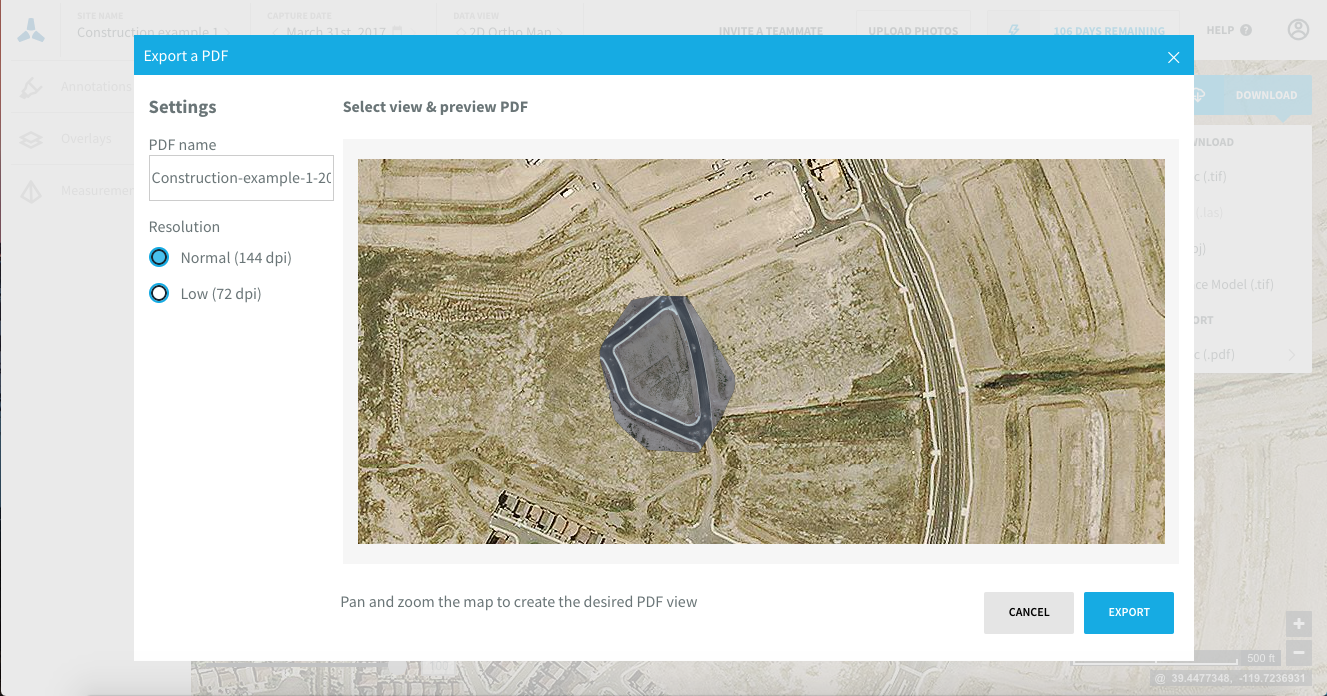 4. Click Export once you have selected the desired settings and your PDF will begin preparations for export. You should see a blue notification bar at the top of your screen. Please keep your browser window open during this time.

5. You will see a new notification status when your PDF is ready for export with a button that says Download PDF. Click on the button to download your PDF directly to your computer.

More details on TIF, LAS, OBJ, and DSM files
High-resolution TIF:
The high-resolution orthotiff file that is generated with every map processing job is a georeferenced 2D aerial map with a resolution of approximately 2 inches per pixel.
You can take the TIF file and add markups or annotations directly in your Skycatch account or another program. You can also import your TIF files into software such as ArcGIS for further viewing and manipulation. The file can also be opened from any software or application that supports the format such as Bluebeam, Google Earth, Sketchup, Autodesk tools, and more.
We have noticed that TIF files larger than 500MB can not be opened with a native photo previewer. In cases like these, we recommend using Photoshop, QGIS, GIMP, or a similar program.
3D Point Cloud (LAS):
A point cloud is a large collection of points that represent the 3D surface of the area captured by a drone and contains the most reliable 3D data possible.
WGS84 is the default coordinate system in which Skycatch typically delivers point cloud data. The vertical datum our UTM data is delivered in is WGS84 height above ellipsoid. You can view the 3D point cloud directly in your viewer by following the instructions in our guide here.
This file type is extremely valuable and contains data that allows you to align 3D models, generate contours, conduct volume measurements, and more. Users utilize the LAS file to track their sites and validate if their existing build is in line with the original design.
Skycatch generates these secondary file types (contours and DSMs) as well as volume measurements for Skycatch Pro Plan users. Many clients import their point cloud data into their existing workflow tools such as AutoCAD Civil 3D. You can also view them using an assortment of other apps and software that support LAS formats, such as Cloud Compare.
3D Mesh file (OBJ):
A 3D mesh file is a large collection of textured triangles that represent the 3D surface of the area captured by a drone resulting in a photorealistic version of the point cloud. You can see the 3D mesh model directly in your viewer, more details are available here, or in any software that supports the OBJ file format.
You can use your 3D mesh file to visualize your site and monitor its progress in a 3-dimensional view. Our users use 3D mesh files mainly for viewing purposes and do not import these files into any further platforms. Other programs that can open up OBJ files are Autodesk, Sketchfab, Cloud Compare, and Meshlabs.
Digital Surface Model (TIF):
A digital surface model, also known as a DSM, is an elevation model that includes surface objects such as buildings, cars, and trees. Programs that can open up DSM files include GlobalMapper and QGIS. Larger-sized DSMs (>4 GB) may not be opened in most BIM software due to the format for larger-sized TIFF files.