Share a public link with a friend, teammate, or client, or embed a map or model on your website to show off your latest data capture!
They can view the map without logging in and won't take up any of the user seats on your account. Anyone with the link will be able to view your map, however, so use your discretion and you can always add a user to the site instead if you'd rather keep your data is secure.
Please note: users visiting the site via a public link will see either the 2D ortho map or 3D mesh, depending on which link you have used. 3D point clouds and other features, such as measurements and annotations, are not yet available via the public share link.
Great uses for this feature:
Easily show off your work to a potential new client without creating an account.

Send maps or models to your boss and other busy executives who don't need the analytical tools and just want the visuals.

Embed a map in your blog or website to help promote your business.
Public sharing can be disabled and re-enabled by an administrator on your Skycatch account. For more information on how to update public share settings, please review our "Administrator Account Settings" guide.
Get It Done in Just Two Clicks
To get started, go to the 2D map or 3D mesh model you're interested in sharing and click the Share button in the upper right-hand corner of your browser.

You'll now see two options for publicly sharing your map: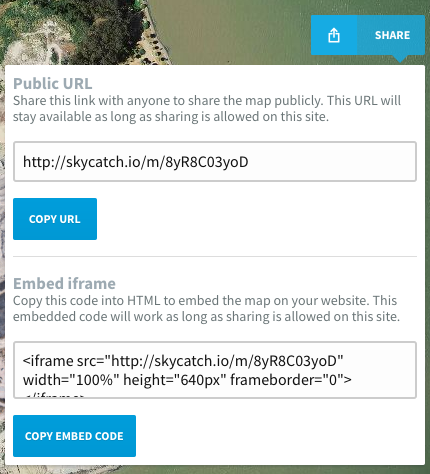 To Get a Public URL
Simply click the Copy URL button or highlight the link to copy and paste it.
Embed Your Map In Your Blog or Website
Click the Copy Embed Code button or highlight the code to copy and paste the HTML into your website.