Ground Control Points (GCPs) are reference points from the real world that are used to accurately align your digital maps with real-world measurements. GPS data can have a margin of error of up to 1m, depending on conditions at the site, so GCPs are recommended if more accurate data is needed. 
For the best results, we suggest using a minimum of 4 GCPs that are spread around the perimeter of your site. Depending on the size of your site and its terrain, you may need to place more GCPs within the site itself.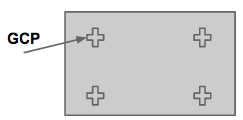 Example of proper placement with GCPs round the perimeter of the site: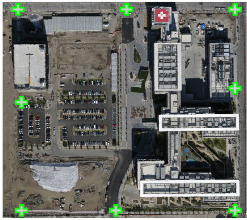 Example of improper GCP placement: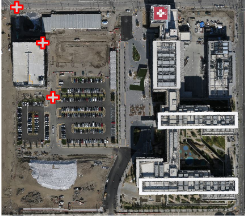 The use of Skycatch GCPs is highly recommended as they have been integrated into our automated processing pipeline. Using Skycatch GCPs will ensure you get your data processed and returned to you in the shortest turnaround time possible. You can access the printing files for Skycatch GCPs here. 
How do I upload GCPs?
Coordinates for GCPs can be obtained using surveyors or survey equipment. Support for GCP processing is currently offered for customers with Premier plan levels and above.
If your account is authorized to upload GCPs, you will see an option in the uploader to attach a GCP file to your data upload as shown in the below. If you do not see the option for the GCP file attachment and believe this to be an error, please contact us at support@skycatch.com
*A few notes:
1. Your GCP file must be formatted as described here.
2. We strongly recommend using Skycatch GCPs (the QR codes) as our software automatically detects and marks them in all the photos. This approach will greatly reduce the turnaround time for processing your data.
3. If you used your own GCP markers, please email us at support@skycatch.com what each marker looks like so we can find it and mark it in the photos. Turnaround times for processing non-Skycatch GCP markers may take up to 5 business days.
4. After marking GCPs, your photos go through the pipeline and you'll get an email when the outputs are ready.
If you're starting to use more GCPs, you may want to consider our High Precision Package which includes use of our RTK quadcopter. It gets you the equivalent of a GCP for every photo, with zero time spent laying down GCPs.
Upload Your GCP File
1. Click the Upload Photos button in your Skycatch viewer.

2. If you have a plan that supports GCP uploads, the upload process reveals a section in the upload bar, titled Add Files. After you have added images to be validated, click Next.

without GCP uploads enabled

with GCP uploads enabled
3. After you've formatted and saved your GCP file, as described in the GCP File Format article, you can either drag and drop the file into the GCP upload section or click browse to find and select the GCP file on your computer.

4. Once you've successfully uploaded the properly formatted GCP file, you will see a confirmation at the bottom of your screen displaying the file name of the GCP.

5. You can now upload your images and continue with your dataset submission.
For more detailed instructions on how to submit your images for processing, please visit guide to Submit your Images for Processing.