Now that you've completed your flights and collected photos, it's time to upload your images for processing. Within minutes, our proprietary data processing pipeline will start working to create high resolution 2D and 3D outputs for you.  
Before you start the upload process with our web uploader, walk through this pre-upload checklist to ensure your data upload is as efficient as possible.
Check that your images are geotagged. Without geotags, our pipeline cannot accurately process your data.

Check that you have the latest version of the Google Chrome browser. While our web uploader is compatible with any web browser (Mozilla Firefox, Internet Explorer, Safari, etc.), we recommend using the latest version of Google Chrome. You can check if you have the latest version

here

. If you don't have Google Chrome, you can easily download the browser by following

these instructions

.

Check that you have a good internet or WiFi connection. A poor connection can halt the upload process.

Check that the sleep modes on your computer are disabled. Your computer going to sleep will immediately halt your upload.

 
Once you've completed the quick pre-upload checklist listed above, there are only a few steps to follow for successfully uploading your images to our pipeline:
Appendix: Tips for Successful Upload
 You can start by logging into your Skycatch account at app.skycatch.com and click on the Upload Photos button in the upper right hand corner of the screen.
The Uploader will now open as a new tab in your browser, and looks like this:
Step 1. Add Images
1. You can select individual images or a folder of images to add. Drag your images directly into the box, or browse through your computer for the files. The images will go through a validation check once they've been added.
Note: Currently only geotagged images in JPG format are supported.
Note: You can only upload one set of images at a time.
2. Any unsupported files that fail validation will show up underneath the box with an error message. Here are some reasons why an image may fail validation:
  a. Incorrect file type- All images should be in a .jpg format
  b. No geotag- All images should have a geotag
  c. File size- All images should be at least 50 KB in size
You must remove these files before you proceed. Remove the unsupported file by clicking on the Remove Bad Image button.
3. When validation is complete, your images will be shown in a preview layout where you can see each of your photo positions placed in a satellite map for reference.
  a. On the bottom left, the Uploader is tracking the files that have been added so far.
  b. The blue area is the footprint of the photos on the ground. 
  c. The NEXT button changes to green if your images are validated and ready to proceed. 
 d. You can click on the Remove Images button to remove all your images and upload again. 
4. Each white dot represents 1 photo taken. Click on a white dot of interest to preview the details of an individual photo. You can see a preview of the photo itself, the file name, and coordinates. If you want to remove a photo, click Delete in the lower right hand corner of the pop-up.
5. You can also view a list of your image files by clicking on View Image List. This will display the number of photos added, number of acres covered, and the list of all images that have been added.
  a. Remove single images by clicking the trash bin icon to the right of each image name.
  b. Remove all images at once by clicking the Remove Images button.
6. If all images have been validated and you have no more changes to make, click on the green NEXT button to continue to step 2 - selecting the site where you would like your processed map to be uploaded to.
Step 2. Select Site: Selecting the Map Date and Site
1. Select the map date:
  a. The date and time of the map is automatically determined by the EXIF data of your photos,  but you can edit the date and time of your photos if desired.
2. Select the site
  a. You can upload your images to an existing site by clicking the arrow on the right hand-side of the site dialog box to view existing sites and to display the search box
  b. Select your desired site or type in the name to search for it
  c. You can upload your images to a new site by typing in a new site name and clicking the Create button. 
3. Specifying a Projection and/or Geoid for Your Data Outputs
    After creating a site, you will be able to specify a projection and geoid.
Note: If you are an Enterprise or HPP customer, we also offer the ability to generate your processed data in any local or customized coordinate system.
Coordinate systems are referenced from EPSG.io database; please refer to their website at epsg.io if you would like to validate if your coordinate system is accepted. There are two options for specifying your site coordinate system:
  a. Upload a localized coordinate system file or browse for a previously uploaded localized coordinate system file (note: This is a required step when using localized control points)
  b. Enter an EPSG code of a known coordinate system and select a GEOID model. (Choosing a geoid will apply the desired geoid model on your data, resulting in a more accurate elevation representation of your data. If you're not sure what GEOID you should use, we recommend you leave it at the default "Height Above Ellipsoid".)
4. Once you have entered in all of the details for the site you would like to upload your images to, click the green NEXT button to continue to step 3 - adding control points.
Step 3. Add Control Points
Note: There are two types of control points: ground control points and checkpoints. Checkpoints are currently only used for verification purposes if the user reports an issue with the accuracy of their dataset, so you will not automatically receive an accuracy report if you choose to upload control points with a dataset. 
Note: This feature is only available for enterprise, HPP, and Premier customers. If you'd like to upgrade your account and try out this feature, please contact us at support@skycatch.com):
1. To Add Control Points, chronologically step through the following articles
  a. Control Points File Format for Data Processing
  b. How to Upload Control Points
  c. How to Manually Mark Control Points
2. Once you have added control points, click the green NEXT button to continue to step 4 - adding precision files.
Step 4. Add Precision Files
Note: This feature is only available for HPP customers. If you'd like to upgrade your account and try out this feature, please contact us at support@skycatch.com)
RTK files are required for getting high accuracy outputs if you flew with Skycatch EVO3x or Skycatch Explore1. You can learn more about RTK files here.  
The supported methods to improve accuracy through precision files are: NTRIP logger for PPK or base station for PPK. You do not need both types of precision files to improve accuracy.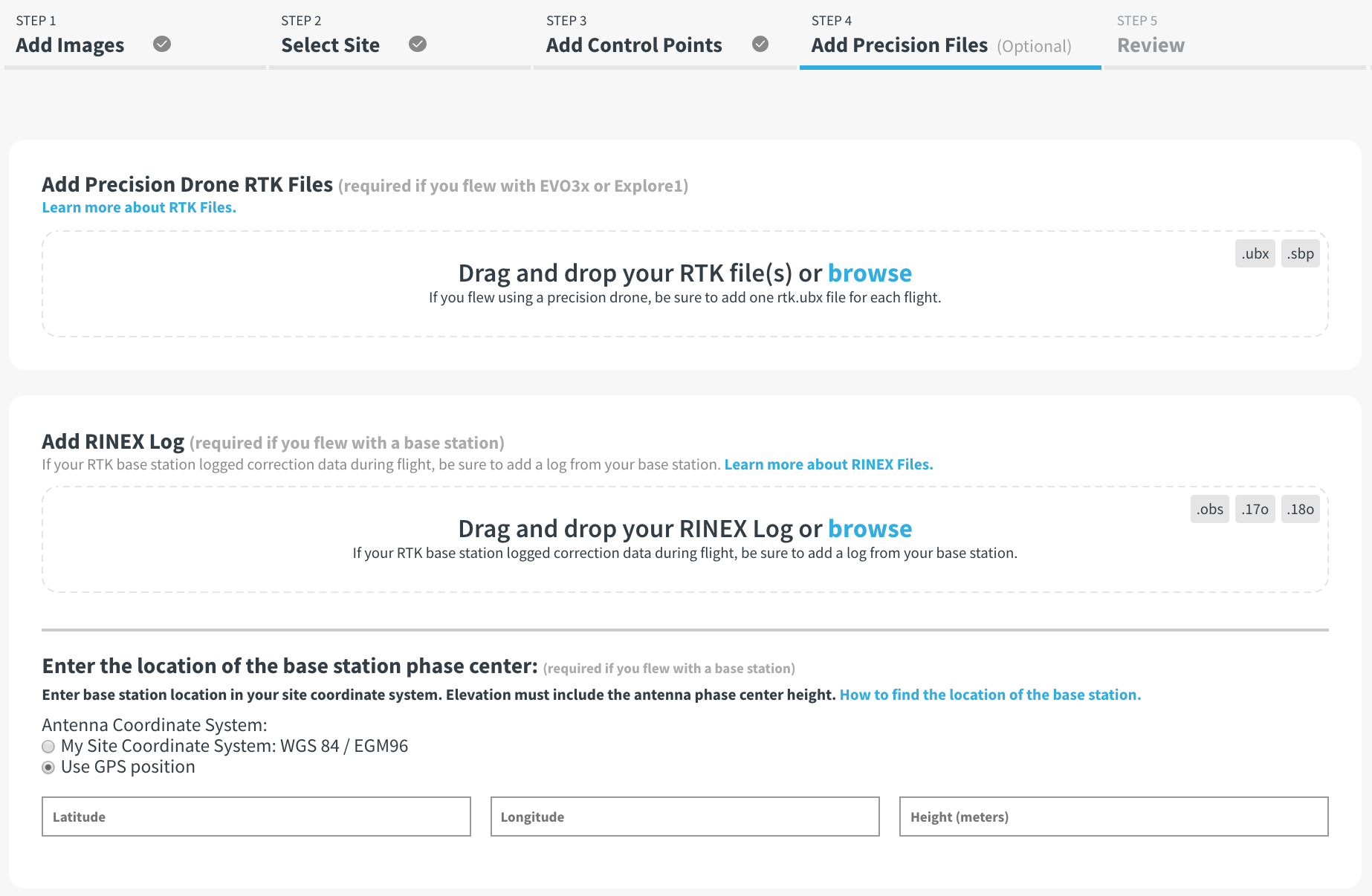 Follow these instructions to collect your RTK files with an NTRIP logger:
Follow these instructions here. Note that with the NTRIP logger you only need to upload the RTK files (no observation logs are required). Once you've downloaded the rtk.ubx or .sbp files from your drone, you can drag and drop them into the section below. Be sure to add one rtk.ubx file for each flight.

Follow these instructions to add precision files from a local base station
  a. Add a RINEX file formatted in any of the following file extensions: .obs, .17o, or .18o. You can learn more about RINEX files here. Please note that you can only upload one RINEX file per upload, so the observations from one file must span the entirety of all flights in the dataset.
  b. Enter the location of the base station phase center. You can learn more about how to find the location of the base station phase center here.
Note: You can enter the position of the base station with either the coordinate system you chose in "Step 2. Select Site", or you can enter the location using a GPS position (lat/lng).
Note: The elevation value of the base station should take into account the elevation of the ground in the surveyed point + the height from ground to antenna phase center. For example, if the elevation was 22.387m in site coordinate system and the height to antenna phase center is 2.618m, you should enter 25.005m as the height.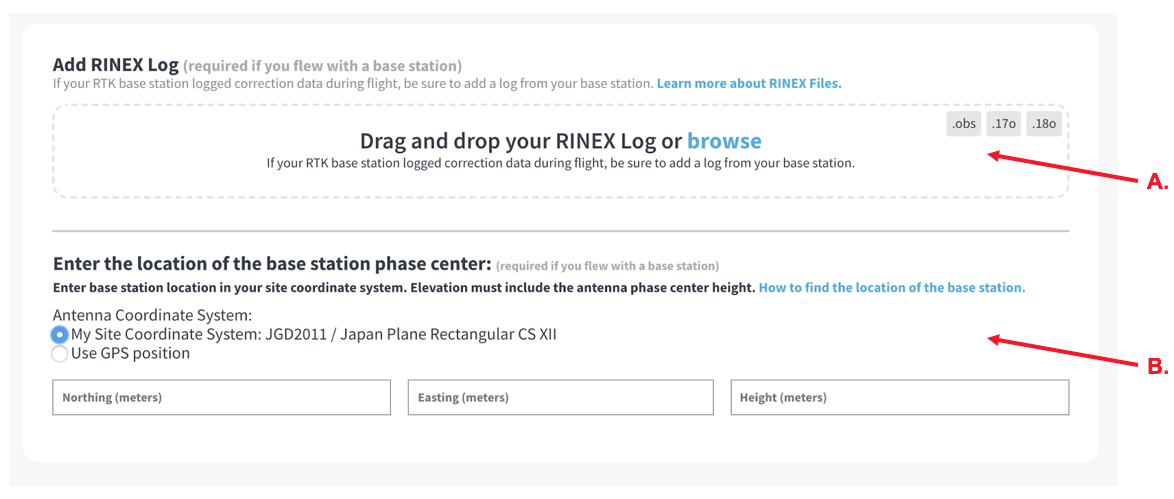 3. Once you have entered in your precision files and clicked "Next", our system will validate the images and log files. This process should take about 1-3 minutes. Please do not close this window, or you will need to start over.

Once the validation is completed and is successful, click the green CONTINUE TO NEXT STEP button to continue to step 5 - reviewing your photos.

If you receive the following error during the upload process, please review this support center article to ensure all the criteria are met and retry upload.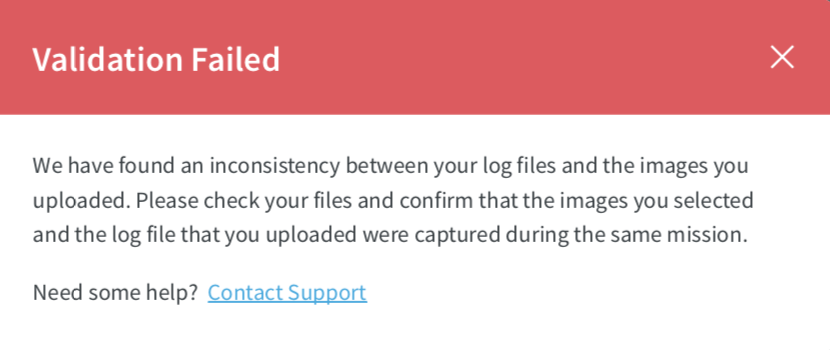 Step 5. Review: Reviewing Your Photos and Site Before Sending to Cloud Processing
1. The review screen will show the site and date of your map, the number of photos, estimated size of the site, and size of the upload.
Note: For enterprise, HPP, and premier customers, you will also see the number of control points in your dataset.
Note: For enterprise and HPP customers, you will also see the RTK or local base station information, local coordinate files, and base antenna position information.
At this point you can:
  a. You can add an optional internal note by clicking ADD A NOTE. This is not monitored by the Skycatch team, however, so please contact us at support@skycatch.com if you have a request or comment on your upload.
  b. Opt in or opt out of receiving emails about your job status.
  c. View the content of the files you are uploading: 
White dot represents a photo

Red square represents a GCP

Blue square represents a CHP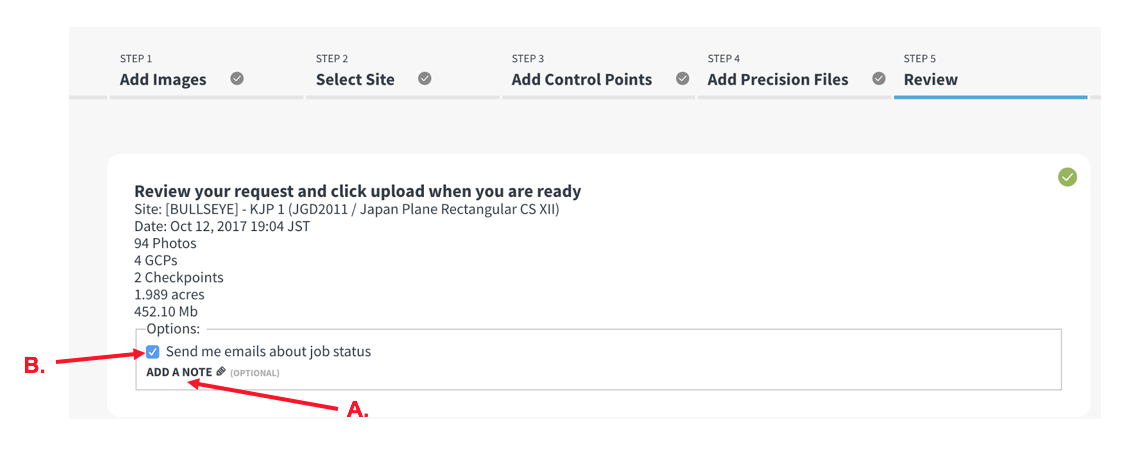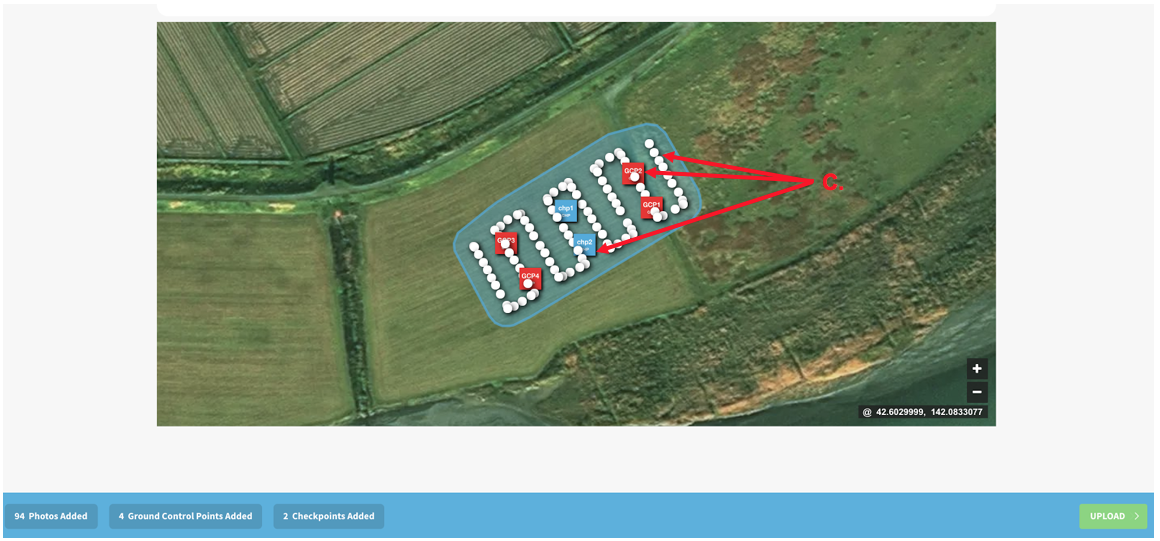 2. Click the green UPLOAD button when you're ready to upload
Upload in Progress
Please note: You should not close your browser window or let your computer go to sleep during the upload process. This will interrupt your upload.
The progress of your upload will be displayed until it has been complete. If you would like to pause your upload for any reason while it is in progress, click on the PAUSE button in the bottom right. This will halt your upload and you can resume it at any time within the next 18 hours.
We recommend pausing the upload process if you encounter any of the following:
  1. Poor internet connection
  2. Low computer battery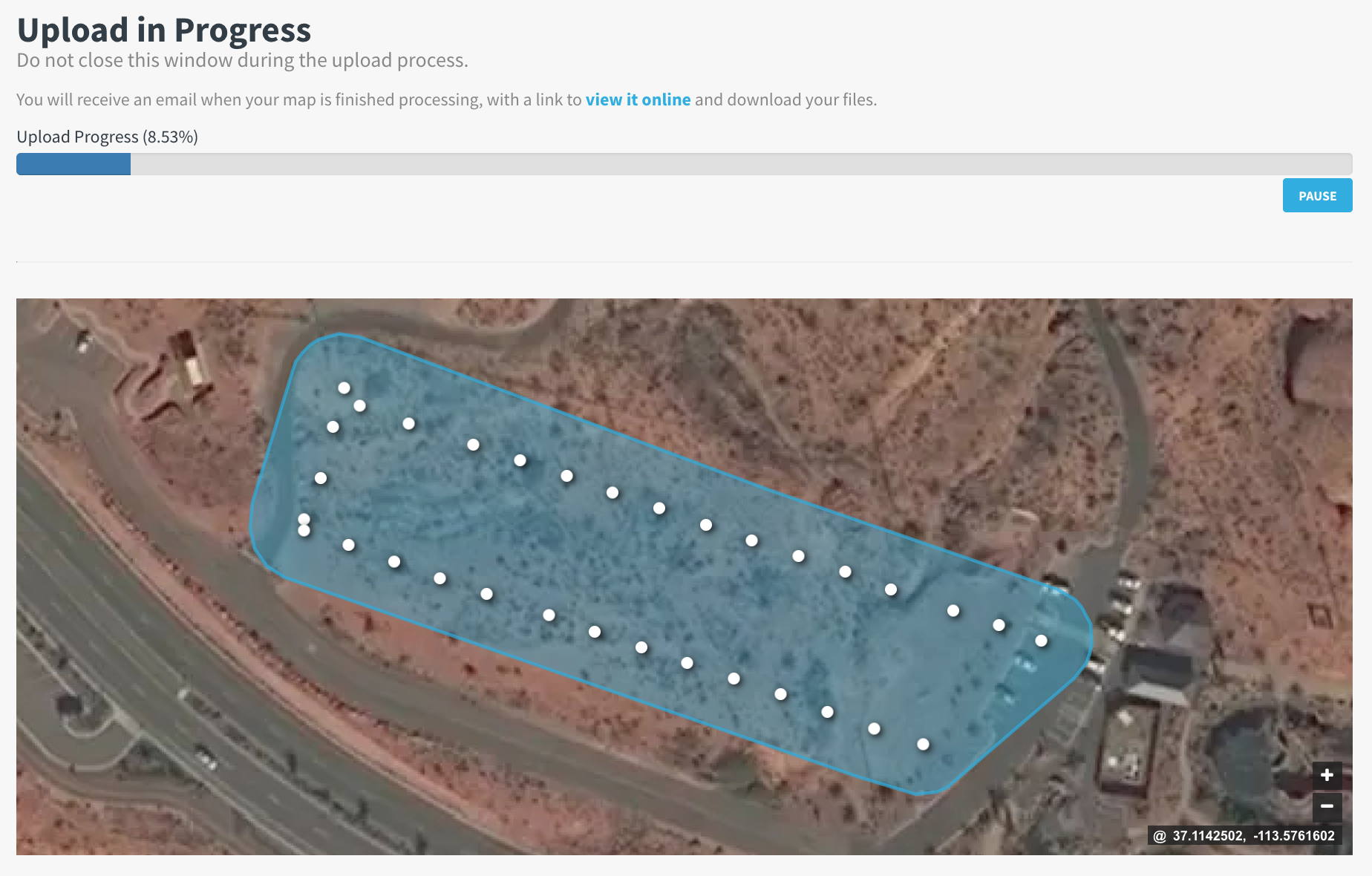 Pausing your upload will result in a "Upload has halted" message. To resume your upload, click on the RESUME button.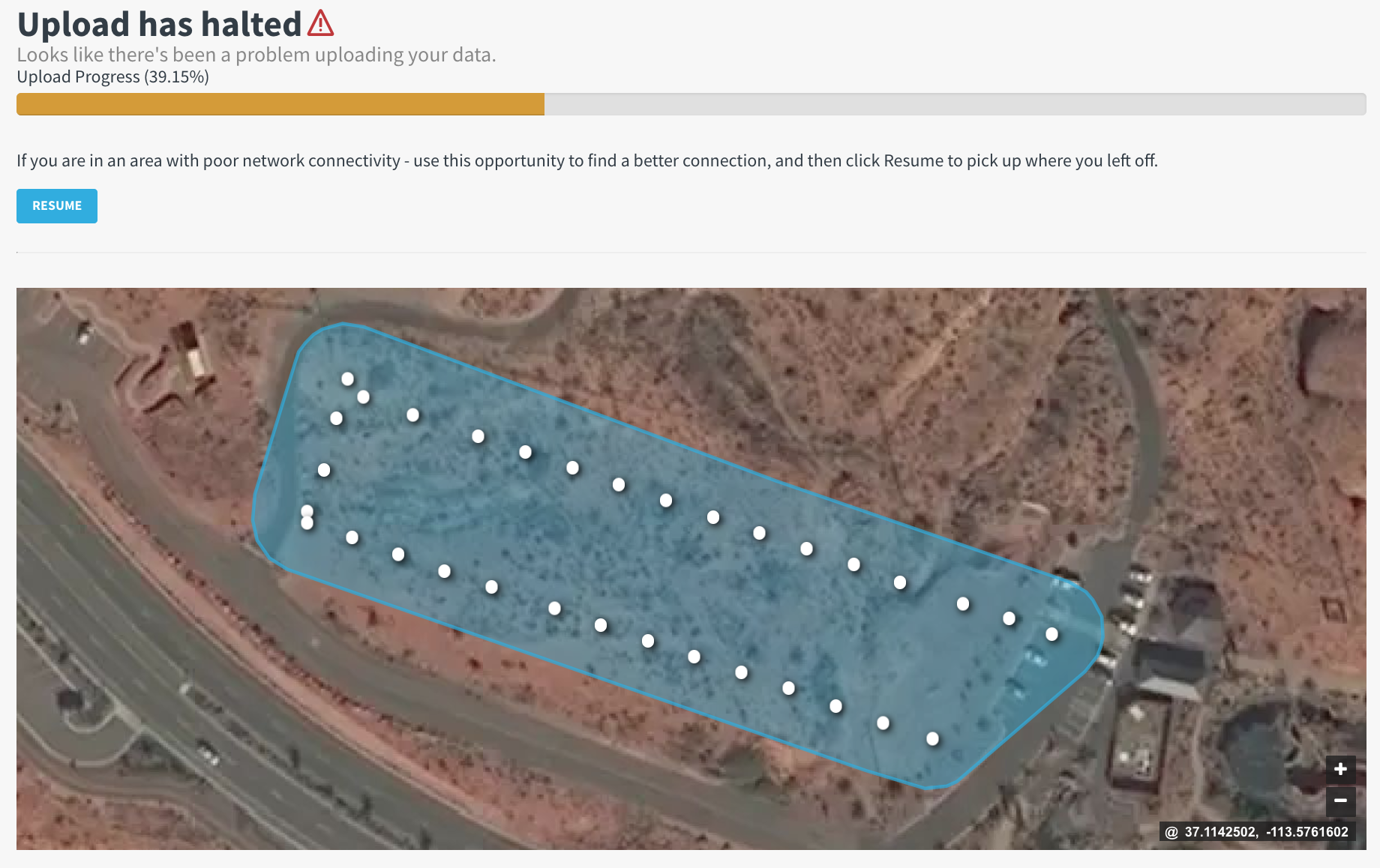 Once the upload is complete, the following message will appear!

Appendix: Tips for Successful Uploads
1. Use the latest version of the Chrome browser whenever possible
2. Ensure you have a good internet/WiFi connection
3. If using a laptop, ensure it is fully charged or charging
4. Disable any sleep modes on your computer during download as any interruption to your internet will immediately halt your upload
5. Make sure the data and time on your computer matches with the current date and time