Support Center Structure
The Support Center consists mainly of a knowledge base which is made up of categories, sections, and articles. Articles are grouped in sections, and sections are grouped in categories.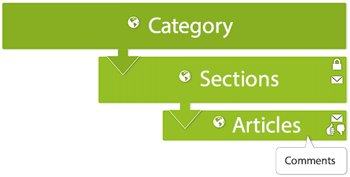 Navigating Content
To get around the knowledge base, you can use the search bar or browse categories and sections. If available, use the breadcrumb links at the top of the screen to go home or to a parent section or category.

Following Sections or Articles for New or Updated Content Alerts
You can also subscribe to sections or articles so that you're notified when somebody creates or updates an article. You will have to sign in to your support account, however, in order to access this feature. Once you've signed in, navigate to the section or article that you'd like to subscribe to and click on the "Follow" link to the right of the title.