WHAT'S NEW!
3D Mesh layer (Beta)

Improvements:

Direct download from photo view

Contours Downloads improvements

Contours visualization

PPK geotag generation
3D Mesh layer (Beta)
The "3D Mesh (Ortho+Terrain)" Layer now includes a sub-layer to display the full 3D Model on DataHub. This will allow you to have a better understanding of the vertical features of the terrain.
We are making incremental changes to improve the 3D mesh viewer. You can expect more changes in the upcoming releases.
Raw photos direct download
Now, it is possible to quickly download the images used for processing through the DataHub viewer.
Enable the images (Raw Photos layer)

Click on the desired photo

Hit the download button (Bottom right corner)

Save!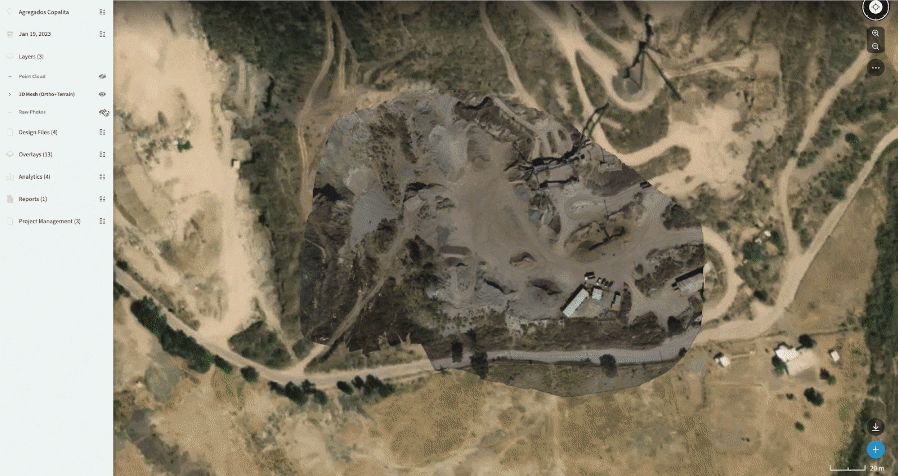 Contours Improvements
We made changes on how the contours export works to make it more clear that the export is completed and where to locate the file.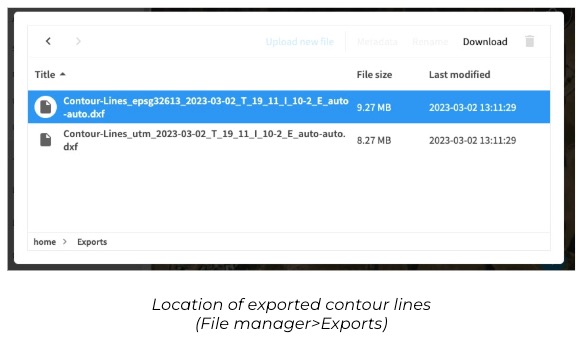 DXF Visualization enhancements
We are adding tools to help with better visualization of the linework of the design files. Line width and opacity can now tweaked to make it easier when the lines blend with terrain.
Default width and opacity
Modified width and opacity
\
Improvements
We made changes on our PPK engine to improve accuracy of the geotags used for 3D reconstruction.
The Skycatch's team is currently working on bringing constant improvements on all fronts, like processing, efficiency and interface / usability to improve the experience overall across all Skycatch solutions. You can expect more updates in this regard in the upcoming releases.
For any question or feedback, please contact : product@skycatch.com .
For any questions or feedback, please contact: product@skycatch.com
For any questions or feedback, please contact: product@skycatch.com
For any questions or feedback, please contact: product@skycatch.com