User-controlled Updates (starting from v.5.6.0 and up)
Edge1

v5.6.0 or higher has now given the users the ability to update the software on their own.

A notification banner will be displayed on the application that will automatically start the update.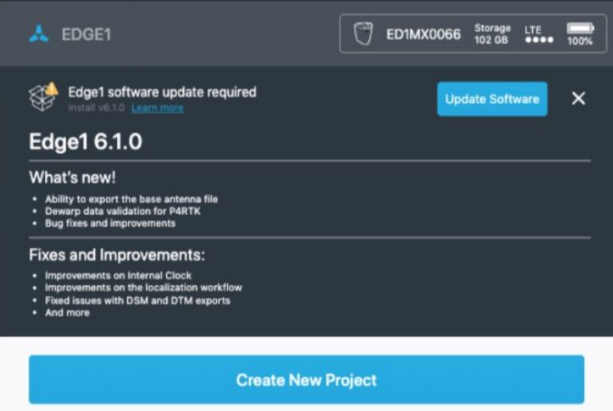 Recommended Updating Practices:
The update will take around 15 minutes to complete.
Keep the unit connected to power during the update to prevent Edge1 from shutting down.
Edge 1 should be connected to the internet via ethernet cable to ensure an undisrupted connection.
The iPad device needs the remain unblocked with the Edge 1 application in the foreground during the update.

For v.5.2.0 or below, you can get this update by reaching out to the Sales Engineer assigned to your account or sending an email to saleseng@skycatch.com to schedule a session for updating the Edge1 unit's version.
Still Having Trouble?
Send us an email at support@skycatch.com!