This article details Key points when using EdgePlus.
Formatting Hard drive in exFAT (MacOS and Windows)
Plug your hard drive into the computer's USB port.

Open File Explorer and right-click on the drive.

Choose Format.

In the File System dropdown, choose exFAT.

Click Start and close this window when the process has finished.
Hard Drive Structure
The folder/file structure is important for datasets. The following folder/file structure must be followed:


Files such as *EVENTLOG.bin, *Timestamp.MRK, *PPKRAW.bin, *RINEX.obs must be included

The base log can be placed anywhere on the hard drive

The EdgePlus outputs will depend on the processing settings.

Processing Quality -affects how much the images will be downsampled before processing starts. Processing time will depend on the processing quality chosen. Lower quality means faster processing.
Processing Density -affects the density of the outputs. The processing density has a greater effect on processing time than the chosen processing quality. Generally, lower density equates to faster processing.

EdgePlus needs enough storage space to process data. Never let the storage space fall below 50 gigabytes.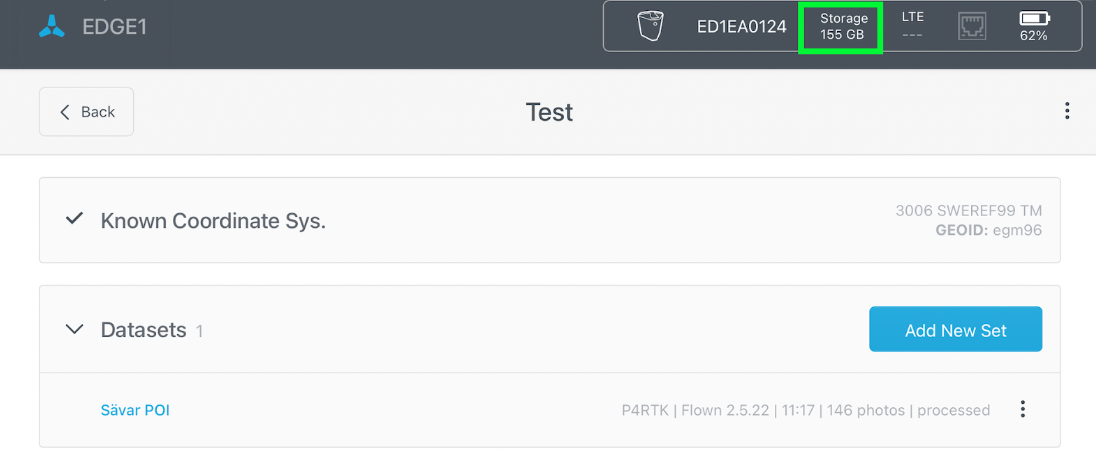 When using a localization file. The Latitudes and Longitudes should be in decimal degrees (ex. Lat: 12.345, Long: -67.8910). Kindly make sure that your coordinates should have a " - " sign indicating southern latitudes. Please follow the format below:

Remember to always add the header (name, lat(dd), lon(dd), alt, n, e, z) as the first row of your localization file
It is required to have at least 4 points for redundancy
Save your file in comma-separated value (.csv) format and name it "localization.csv"

Do not forget to eject the SD card before removing it from the EdgePlus to avoid file corruption