The Explore1 system implements state-of-the-art integration network RTK services that are used to post-process geotagged photos for survey-grade 3D accuracy.
This quick guide will show you the basics for capturing high-accuracy datasets using the Explore1 and Network RTK to log your corrections.
Prerequisites
Skycatch Account

HPP Kit

Skycatch NTRIP Logger account linked to your Network RTK account

To use network RTK corrections, you must have an account with a network RTK provider and provide the below information from your network RTK provider to have your Skycatch NTRIP account set up.

User Name

Password

Port

Host

Mountpoint

Location (lat/long) that the NTRIP logger will be used - this is for testing the connection
Workflow Overview
Go to your site

Start PPK Logging

Setup your Explore1

Plan & Fly a mission

Stop PPK Logging

You're ready to process your data
How to Start PPK Logging With Your RTK Network
PPK Logging is a convenient method to achieve high accuracy location data which results in high accuracy outputs. Logging needs to start before you turn your drone on and end after the last flight of your mission.
Note: Do not start logging until you are on site
Once you're on-site, go to

https://ntrip-web.skycatch.net/

on your mobile device

This device should have a cellular connection (personal device or iPad from HPP Kit)


Login using your Skycatch Account




Press the "

GET CURRENT LOCATION

" button

Wait for Latitude, Longitude, Altitude values to get populated




Select your RTK Network from the dropdown

Note

:

Some RTK Accounts only allow one device to log in at a time. Make sure no one else is using this at the same time




Press the "

START LOGGING

" button

After confirming the location is correct, click "start logging." When the log has been started, logging information such as start time and date will be displayed, with a logging status.




Wait for the status to change to "started" in green. The RTK logger must display as "started", or correction data will not be collected during the flight. Please wait at least 15 minutes before starting the first flight.




Once you are logging you can set up the drone

Note

: Please make sure not to turn on the drone until after logging. If you do, please restart the drone before your first flight

Leave the NTRIP logger running during the entirety of your data collection flight(s).

Note:

You can close your mobile browser while flying since the logger will continue to record corrections in the background.

Note

:

If you plan to upload multiple flights to Skycatch for processing as a single area, you must have only 1 correction log (observation) per upload

Troubleshooting:

If you receive an error or the NTRIP logger has stopped during a flight, you will need to restart the NTRIP logger and refly the site to collect all correction data needed for RTK processing.


Go back to

https://ntrip-web.skycatch.net/

Find the log you started earlier and press "

STOP

"

Verify that the log changes from "

started

" to "

stopped

"

You can proceed to turn off your Explore1

You can start uploading and processing your data
Note

: Please ensure you stop the NTRIP logger before uploading your data for processing


Processing NTRIP logs in the Classic Viewer
First you need to upload to the Viewer the Explore1 mission folder containing the images and the drone logs (.ubx files).
You can manually upload your drone logs as well by clicking the high accuracy mode toggle.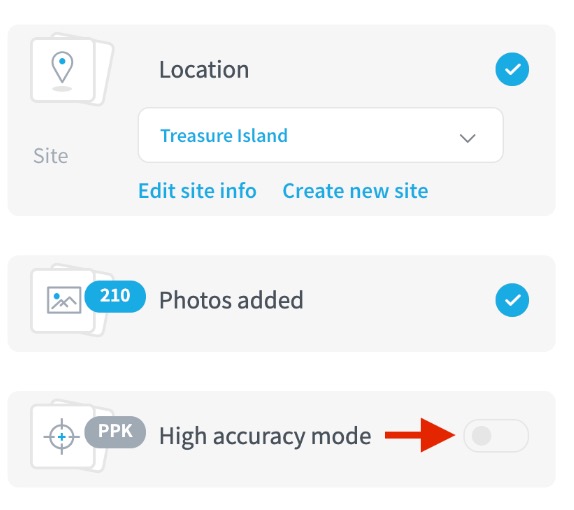 Then Select the edit option in the Drone logs section.

Drag and drop the UBX file and wait until it has uploaded. Once you see the blue check mark next to the file, click the green DONE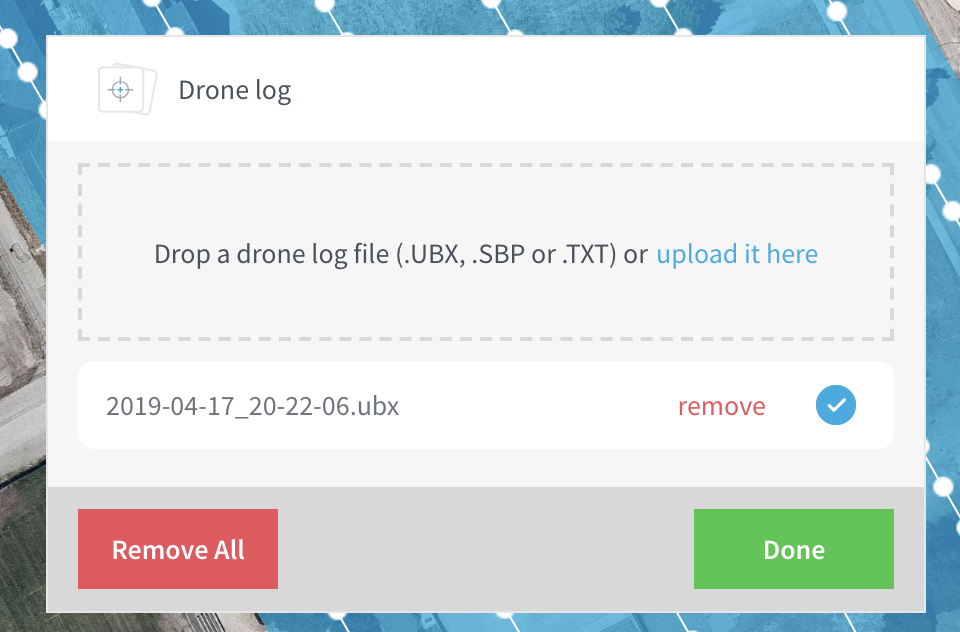 Setting NTRIP as base log source
To input your NTRIP log: click the Select source of base log dropdown arrow and select NTRIP.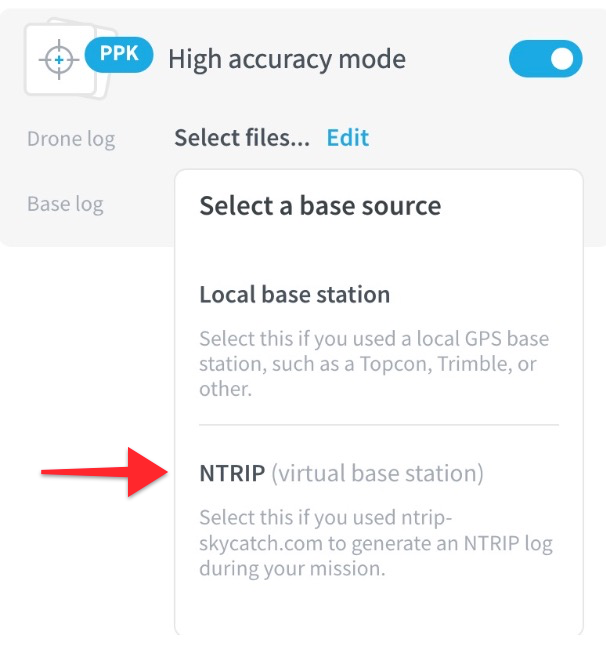 Validation Check
Run the validation check by clicking on"Check validity of precision files"to validate your files. If this button is gray, please review your precision files and verify they have all been added and are the correct format. The PPK validation process may take about 1 to 5 minutes depending on the data.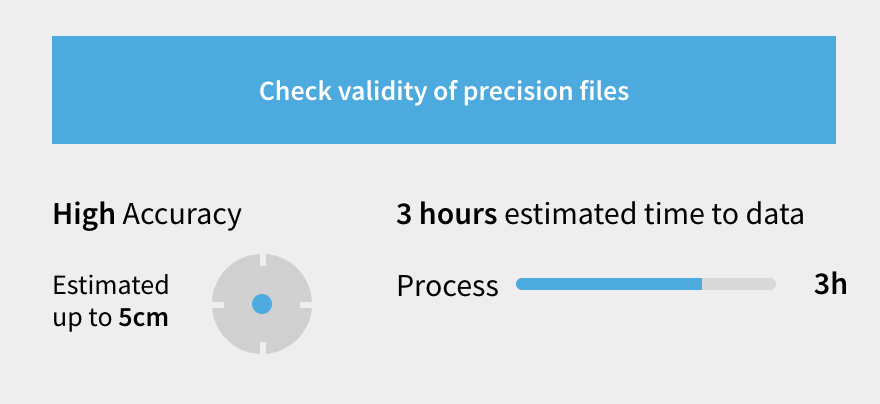 After this step, you will be able to continue on the next regular steps and confirm the upload to process your data with high accuracy.
For any questions or assistance in uploading, please contact support@skycatch.com .