To consistently achieve best results with your Explore1, it is important to use the correct type and size of microSD cards that are known to work well with the drone. We recommend only purchasing name brand microSD cards through official resellers, as we've experienced off-brand and counterfeit cards that do not work well (or at all). SanDisk is our recommended brand.
For Explore1, use the SanDisk MicroSD card described below. If you use something else, it may not record photos correctly.
Type:

MicroSD

Bus:

UHS-I

Speed

Class 10

Format: FAT32
Size: 32 GB

 

For WINDOWS 10 machines
SD Card Reformatting
Step 1: Bring up Desktop View
If you are not already in Desktop View, bring up Desktop View by pressing the Windows key + D on your keyboard.
Step 2: Open 'Computer'
Open up the 'Computer' window by pressing Windows key + E on your keyboard.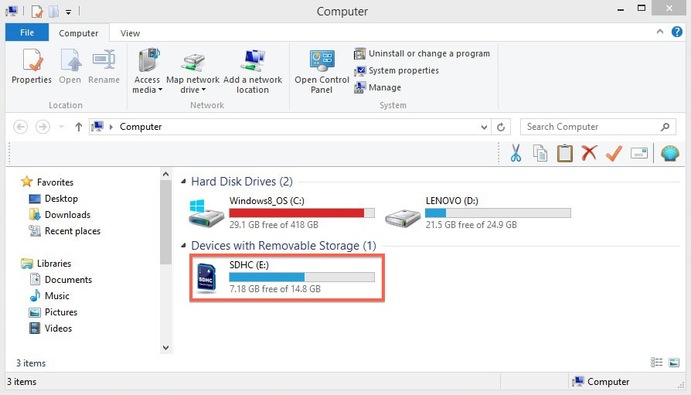 Step 3: Display right-click options
Your SD card should be displayed in the 'Devices with Removable Storage' section.  Right-click on your SD card to bring up the right-click menu options.  Select Format.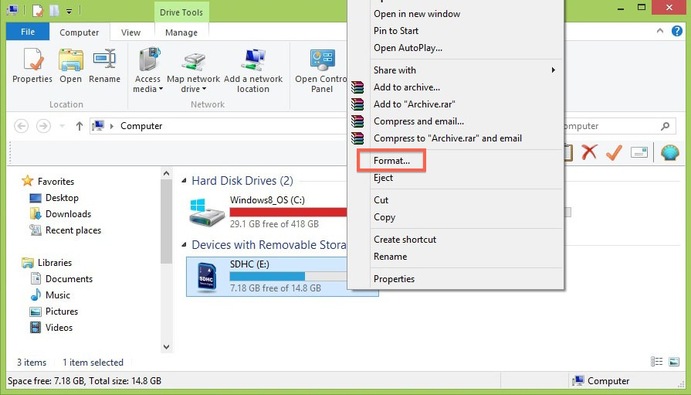 Step 4: Format the SD card
In the Format window make sure that the correct File System is selected.  It should be set to FAT32 for 32GB SD cards and EXFAT for 64GB SD cards.

Select Quick Format.

Click Start.

Once the formatting is complete, you can close the window.
Congratulations!  You have formatted your SD card.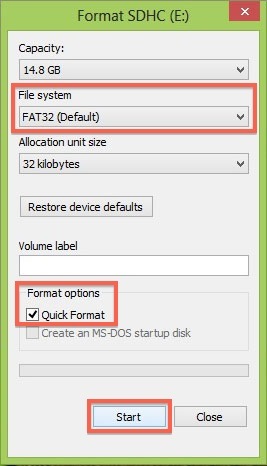 For MAC OS X machines
Step 1: Connect SD card to MAC
Connect the SD card to your computer by using an external card reader.  Save any files from your SD card that you'd like to keep to your computer before moving to step 2.  Formatting the SD card deletes all the data off of the card.
Note – If you're using a Micro SD card, please insert the MicroSD card into the SD card adapter that came with card.  Connect the SD card adapter to your computer by using an external card reader if your computer does not have a built in card reader.

Mac OS 10.6.5 or earlier does not support exFAT format, which most 64 GB SD cards are formatted to.  This means that you won't be able to format or use exFAT card on your computer. In this case, we recommend either upgrading your OS to 10.6.6 or later, or using an SD card that's already formatted to MS-DOS (FAT) or FAT32 to complete the below steps.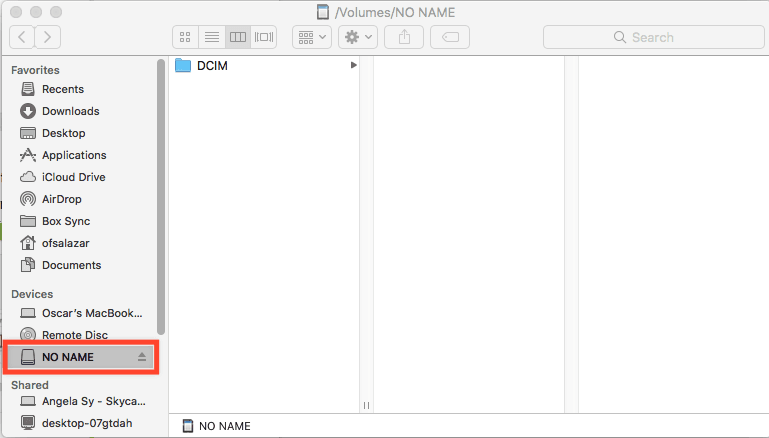 Step 2: Open Disk Utility
Open Disk Utility.  To do this, click on the magnifying glass in the top-right corner of your computer screen.  Type "disk utility" in the search box that opens, then click on the "Disk Utility" Application that comes up.
Find the SD card in the left side of the window.  It'll be named something like NO NAME or UNTITLED.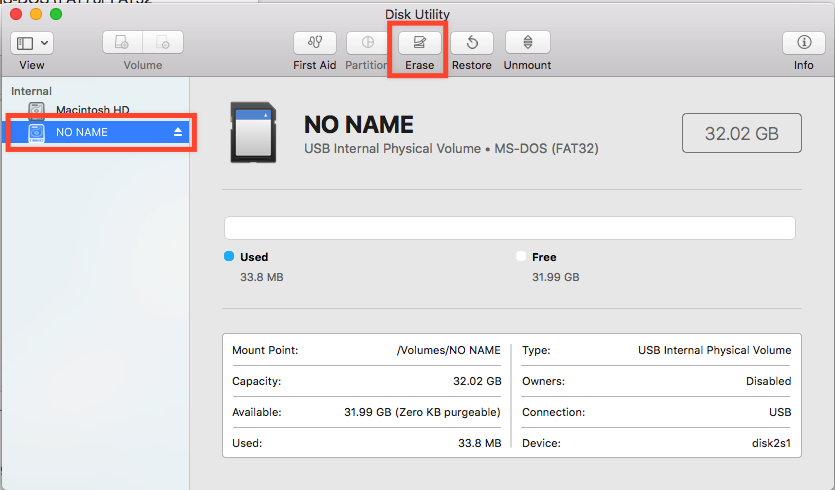 Step 3: Format
Click the ERASE tab in the middle of the window.
Next, click on the Format drop-down menu.  Select MS-DOS (FAT) if the card is 32 GB or smaller.  If it's a 64GB card, please select ExFAT.
A message will appear asking, "Are you sure you want to erase the partition "[YOUR SD CARD NAME]?"  Click Erase. The computer will delete the contents of your SD card and format it. You're all done!