What's New!
Side-by-Side Dataset comparison mode

Support to CSV files for localization (Coordinate Reference System definition)
Side-by-side Dataset comparison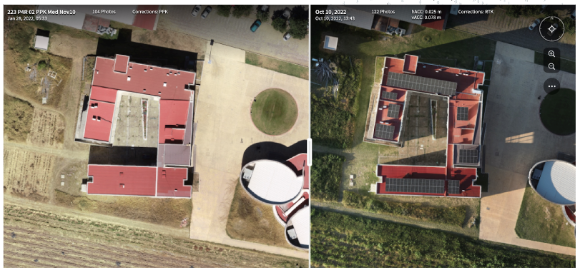 At Skycatch, we understand the need of having a quick and easy way to analyze the job sites, and the possibility to perform a visual comparison of the progress of the job or the operations in general plays an important role at various levels of the site's operation. With this in mind, we bring to DataHub, this new feature, with which you will be able to run quick comparisons of your datasets in a quick and intuitive way.
Where to find it?

1. Under the "Map Settings" button. Click on "Compare"
2. The screen will be divided, and the dataset used to start the comparison mode will be used as "Reference". From this point, you can select by clicking on the checkboxes, another dataset to compare against
* This feature is only available for datasets that contain an orthophoto
How to use it?
3. Once the datasets have been selected, you will be able to navigate as usual on the viewer. Both views are synchronized.
Note: "Inside" the comparison mode, some functionalities are disabled:
- Imagery
- Analytics
- Reports
4. At the bottom, basic information is displayed per dataset selected for quick reference.

5. The slider, can be adjusted to rearrange the screen real-estate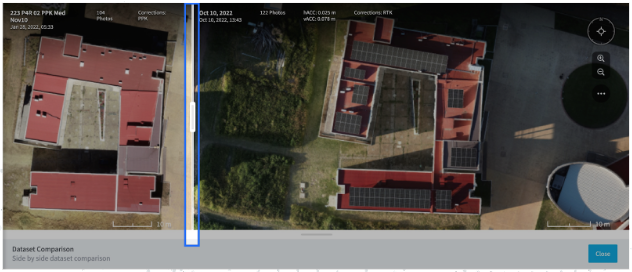 Support for Localizations in CSV format!
DataHub now has an additional method to define a Local Coordinate Reference System throughout a set of pair of points; Global and Local coordinates
You will notice this new feature at the moment of setting up a new site
From this point, it is as simple as dragging and dropping the file in .csv or using the option to navigate through your local file system.
This feature is fully compatible with the Edge Solutions, and the same file will work on all platforms.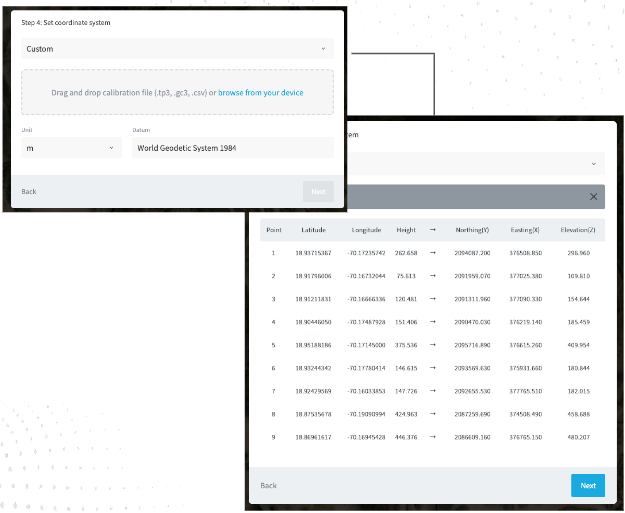 Bug fixes
Fixed a rare issue during PPK and photos interpolation that caused an issue during the geotagging process.

Fixed an issue preventing some email notifications for output availability to be sent.
The Skycatch's team is currently working on bringing constant improvements on all fronts, like processing, efficiency, and interface/usability to improve the experience overall across all Skycatch solutions. You can expect more updates in this regard in the upcoming releases.
-------------------------------------------------------------------------------------------------
[Spanish Version]
!Qué hay de nuevo!
Comparación "lado a lado" de capturas

Soporte de Localización mediante archivos CSV (Coordenadas locales)
Comparación "lado a lado" de capturas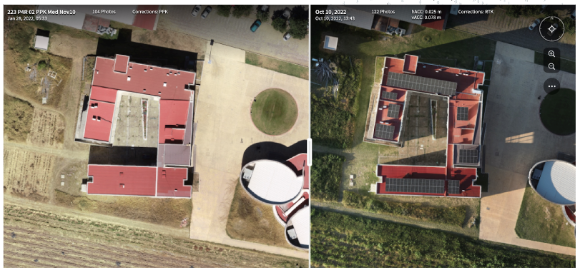 En Skycatch entendemos la necesidad de contar con una manera práctica de poder analizar los sitios de minería y construcción y el poder realizar comparaciones visuales del avance de obra o de las operaciones en general, juega un papel importante a diferentes niveles de la operación de cada sitio. Con esto en mente, traemos a DataHub, esta funcionalidad con la que podrá realizar comparaciones de sus conjuntos de datos de manera ágil e intuitiva.
¿En dónde encontrar la herramienta?
1. En la sección de Map Settings dar click en "Compare"
2. La pantalla se dividirá para mostrar el conjunto de datos seleccionado que será la "referencia". A partir de este punto podrás seleccionar el conjunto de datos a comparar mediante la casilla de selección.
* Funcionalidad solo disponible para conjuntos de datos con ortofotos
¿Cómo funciona?
3. Una vez seleccionados los conjuntos de datos (datasets) a comparar podrán navegar dentro de la aplicación de manera sincronizada en el visor.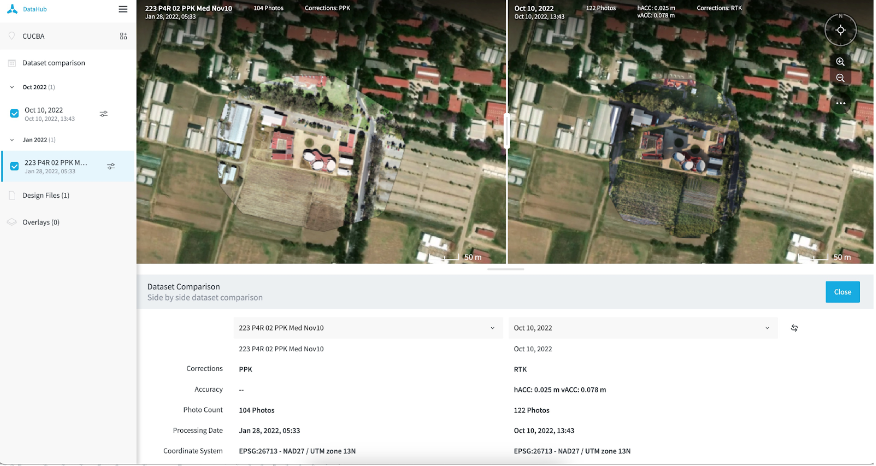 Nota: Dentro del modo de comparación, algunas funcionalidades se deshabilitan:
- Imagery (capas)
- Analytics (Analiticas)
- Reports (Reportes)
4. En la parte inferior se despliega información básica de cada conjunto de datos seleccionado

5. La barra divisoria se puede acomodar para facilitar la visualización.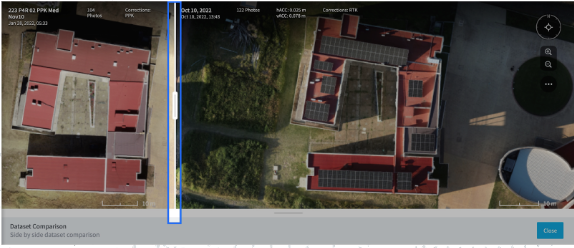 Soporte para localización mediante archivos CSV
DataHub ahora cuenta con soporte para poder definir un sistema de coordenadas locales mediante un conjunto de coordenadas organizadas en pares; Globales y Locales.
Esta nueva funcionalidad la podrán notar al momento de definir el Sistema de Coordenadas de cada sitio.
Solo es cuestión de "arrojar" el archivo en formato .csv o usar la opción para navegar el explorador de archivos local.
Esta funcionalidad es completamente compatible con las Soluciones Edge y el archivo funcionará para todas las plataformas.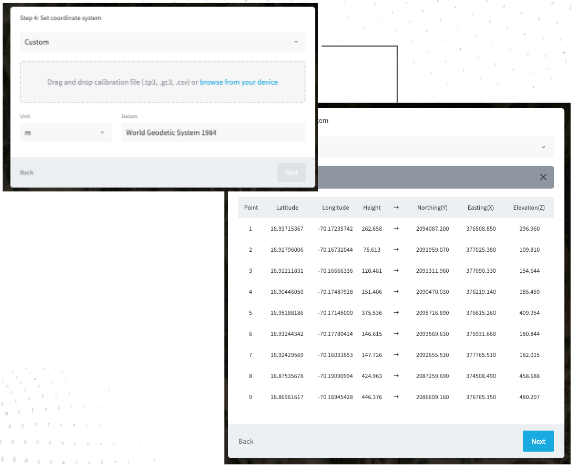 Bug fixes
Se soluciona un problema muy poco frecuente durante la interpolación de correcciones PPK a imágenes durante el proceso de geotagging

Se soluciona un problema ocasionando que no se enviará la notificación por email de la disponibilidad de los resultados.
El equipo de Skycatch se encuentra trabajando en mejoras constantes tanto a nivel de procesamiento, eficiencia e interfaz para mejorar la experiencia general de las soluciones por lo que encontrarán en los siguientes actualizaciones, mayores menciones al respecto.
!Gracias!
En caso de preguntas o comentarios, contacte: product@skycatch.com .