For reporting an issue with Flight1 during any 2D, Highwall or Terrain Following mission, please contact skycatch@support.com.
We would provide a shareable box link where we would require you to upload the necessary information and data for the investigation.


A) Screen Recording
For missions that can be flown again, we strongly recommend doing so while recording the iPad screen to document the full mission details. The process to record the iPad screen can be consulted here.
The information shared to Skycatch should be obtained with the drone being placed at the take off point of the reported mission. Collecting the recording/screenshots with the drone being at different locations than the mission take off point must be avoided.
B) Screenshots and files
In case of not being able to fly the mission again, a set of screenshots should be shared from the following:


Plan Mission configuration vertical screenshot showing Mission's name and Polygon (1)

Advanced settings (2)

Pre flight vertical screenshot (4)

Flight1 User email

Flight1 version
The following files should be exported/synced from Flight1:
Please export the Area details (3)
For last, if the mission type was Highwall scanning or Terrain Following please upload too:
DSM file used for the mission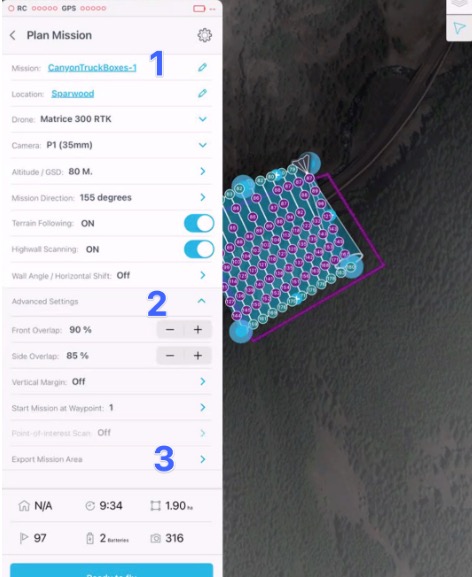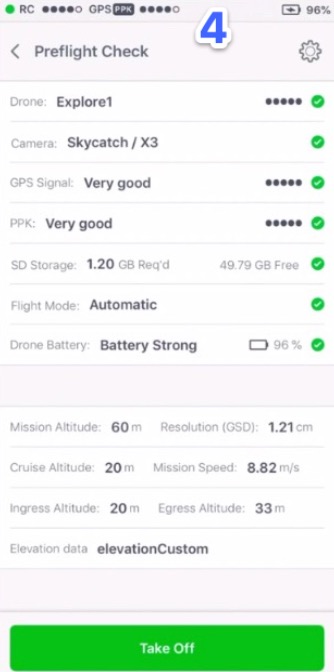 For further assistance or questions about the above, please contact Skycatch support